Good News Videos on "Rome-ing with Terry"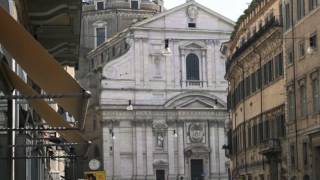 Basilicas and Saints of Rome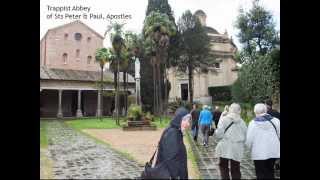 Sites of St. Paul in Rome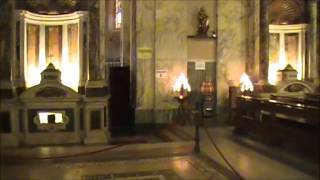 Tre Fontane - St. Paul's Martyrdom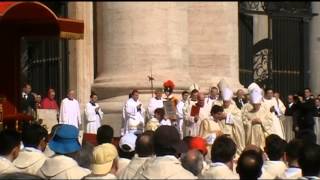 Sights & Sounds of Mass with Pope Francis
Basilicas and Saints of Rome

Rome has hundreds of churches (around 900 if you count shrines that are not parishes as well as non-Catholic churches). Many have relics of Saints and objects from the life of Jesus, and original icons. This slide show is a virtual tour of just a few of these holy places.

Sites of St. Paul in Rome

Slideshow of scenes in Rome of places that are associated with the Apostle Paul: Le Tre Fontane where he was marytred, and St. Paul Outide the Walls, which is one of 4 papal basilicas and is the location of St. Paul's tomb.

Tre Fontane - St. Paul's Martyrdom

Terry Modica shows the place in Rome where St. Paul was martyred. It's a very peaceful place! Listen to the birds.

Sights & Sounds of Mass with Pope Francis

Sample the sights, sounds, and celebration of Mass at St. Peter's Square at the Vatican in Rome, with the very popular, much loved Pope Francis. Photos and videos are from Terry Modica's pilgrimage to Rome. Thanks to Msgr. Joseph Kimu (of Malawi), who spoke to Dave Sawasawa (a young from Malawi who works in the Vatican), who spoke to his boss, Bishop Ennio Appignanesi, Terry was escorted to a seat close to the altar.

Journeying through Hardships

Filmed during Terry Modica's pilgrimage to Rome. In this short video, she shares one of the lessons she learned. Discover the secret value of hardships when God is involved!

Church of Santa Susanna in Rome

Father Paul Robichaud, CSP (Paulist priest), gives a tour and history lesson of Santa Susanna Church in Rome. The church is built on the site of a house from the early days of Christianity where Saint Susanna and her family made the very difficult decision to accept martyrdom rather than forsake their Christian beliefs.